Unique merchandise designed and hand drawn by Dave, you won't find these anywhere else!
The T-Shirts Dave wears on the blog come from a crowd sourced T-Shirt company called TeeSpring.
How it works is that you put down your order to buy one during the campaign, and then if the quota is met you get charged and everyone gets their shirts printed.
However, if a campaign has ended then you can still sign up to buy one and once they get 15 orders total, the shirts get printed – neat!
This way you get a much cheaper shirt than the Zazzle option below, but it might take some time to get it. Zazzle will print on-demand, hence they cost more.
Current designs are:
I Only Give Negative Feedback (BLACK)
I Only Give Negative Feedback (Light Ash colour)
---
The Zazzle store is available for those who must have their merch NOW!
They will print one to order just for you, but you pay more through Zazzle than the above crowd sourced Teespring shirts.
There are tons of options and prices, so you can chose YOUR OWN STYLE and price (from $12.95). Light coloured shirts are generally cheaper than darker coloured ones, and designs may differ bewteen dark and light shirts too.
If you don't like the style then you can get the same image on another design!
Dave gets a commission on this stuff, so this goes toward helping support the blog, but it's not nearly as much commission as Teespring offers. So if you really want to support the blog then Teespring is best.
Or even if you don't like Dave's products, click HERE and then search Zazzle for millions of other designs and Dave gets a referral fee 😉
Check out Dave's ZAZZLE STORE
NEW! EEVblog Stickers – Dave's ugly mug on a sheet of stickers, perfect for pimping out your tech gear. You can even modify the sticker yourself before you order.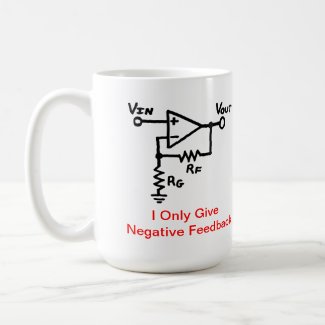 Negative Feedback Coffee Mug by EEvblog
Browse other Eevblog Mugs
create & buy custom products at Zazzle
Yes, you too can look as nerdy as Dave in this unique Fluxgate Condenser T-Shirt!
Available in LIGHT and DARK.


This is the top of the line American apparel t-shirt made in downtown LA!
And even nerdier in a 555 Timer T-Shirt!


This is the "Basic Dark" Haynes T-Shirt made in Honduras:
Start your own religion and annoy the delusionals with an Engineering Religion FSM T-Shirt!


This is the "Basic Dark" Haynes T-Shirt made in Honduras:
Give people your feedback with the Negative Feedback T-Shirt!


This is the "Basic Dark" Haynes T-Shirt made in Honduras:
Dave's catch phrase "Don't Turn it On, Take it Part!"!


This is the "Basic Dark" Haynes T-Shirt made in Honduras: